I have received information and materials from ©Johnson & Johnson Consumer Inc. 2017.  The opinions stated are my own. This is a sponsored post. #ForBetterTomorrows #BetterTomorrows #FallBack #CollectiveBias
Sweet dreams are in store with TYLENOL® PM, to relieve minor aches and pains, and my favorite evening drink – Honey Vanilla Tea. and my favorite evening drink – Honey Vanilla Tea.
Are y'all dreading Daylight Savings Time as much as I am?  As a work-at-home mom and food photographer, I already feel crushed by trying to get work done during daylight hours.  And, because I'm a glutton for punishment… I've added training for a half marathon to my to-do list.
All of which leaves me exhausted and sore at the end of the day.  Pace-work has my hamstrings tight, the evening routine of dinner and homework has me tense in the shoulders, and I'm as done as done can be.  Which is why it's SO MADDENING that I can't simply go. to. sleep.
With three kids and a job, a running schedule and only 24 hours in a day, sleep can easily be placed behind everything else.  Not to mention how all of the aches and pains seem to settle in nice and strong (especially on long-run or pace days!) by the end of the evening.
Which is why…. I've come to lean on few simple tricks of the sleep-trade over the years.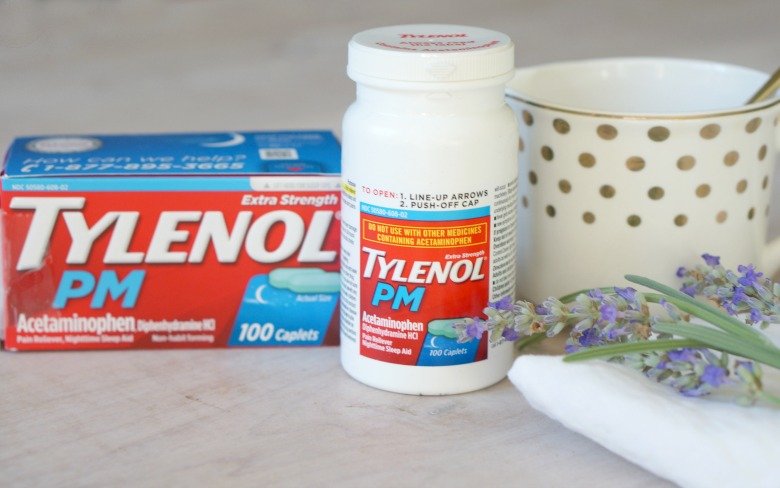 Hover over the image above to purchase products!
TYLENOL® PM is my go-to pain reliever in the evening.  On nights I feel particularly roughened up from training it helps take the edge off.  Available at Walgreen's, it's a comfort for me to know I have TYLENOL® PM in my medicine cabinet, especially during the taxing holiday season.  *Use only as directed!
I also make sure to have a calming period before I get into bed.  I've found that I need at least 30 minutes of wind-down time before I can feel relaxed enough to sleep.  Having a routine for this time helps.  I like to make the Honey Vanilla Tea recipe below, then cuddle into the couch with an e-book.  Sweet dreams are most definitely in store…
Sweet Dreams Honey Vanilla Tea
In a small saucepan, combine milk, honey, and vanilla extract.  Cook over medium heat, whisking constantly until piping hot but not boiling.  (I use a ratio of 1 cup milk, 1 Tb. honey and 1 tsp. vanilla.)
Meanwhile, bring 8 ounces of water to a boil.  Steep your favorite caffeine-free tea until robust in color. Remove the tea bag and pour the tea into your serving cup.  Top with desired amount of hot milk.
Sweet dreams! <3
Find TYLENOL® PM at Walgreen's, to help you get uninterrupted sleep while relieving aches and pains!  Use your Walgreen's card to get the $11.99 offer on your next purchase of TYLENOL® PM 100 count between 11/5-11/11!
Pin me!
TYLENOL® PM contains a pain reliever and nighttime sleep aid. ©Johnson & Johnson Consumer Inc. 2017 The third party trademarks used herein are trademarks of their respective owners.